Inspired Hand-Crafted Beers On Draft
Become a HopHead
Receive updates on special discounts and offers, menu reviews, and more!
Inspired Hand-Crafted Beers On Draft
Crisp & Light
Satisfied – Local Lager Beer
5.0% ABV / 13 IBUs

Our year-round Local Lager Beer will be your new favorite go-to beer. Crisp, cold and crushable. Light in color, big on flavor. This beer won a silver medal at the 2019 U.S. Beer Open Championship. Cheers to staying Satisfied!Taster $28 oz Short Pour $316 oz Pint $5
Hoppy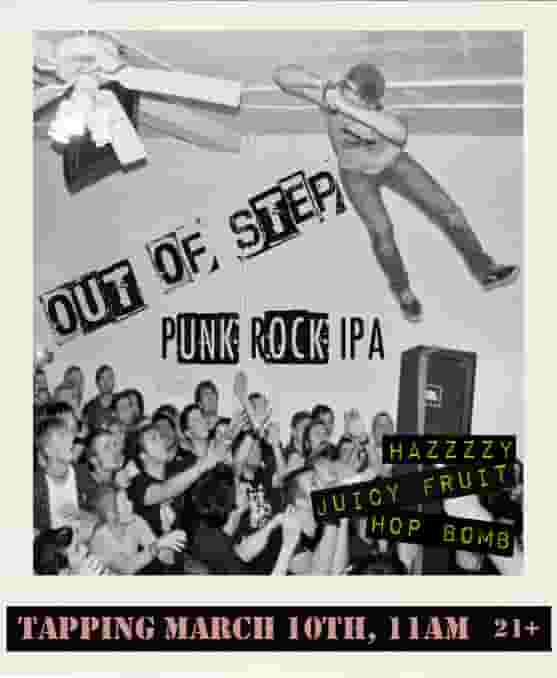 Out Of Step Hazy / Juicy IPA
7.1% / 45 IBUs
This hazy IPA was inspired by our two brewers' old punk rock days (for Brian it was the late 80s .....for David the early 2000s). We're talkin' slam dancin', mosh pits, stage divin', crowd surfin' kinda punk rock days. The hazy IPA is double dry-hopped with Vic Secret, Wai-iti and Citra.Taster $2.50Short Pour $3.5016 Oz Pint $6
Astro Creep Hazy DIPA
8.3% ABV / 65 IBUS

This atomic space bomb features a pillowy body, thanks to the ridiculous amounts of flaked oats and flaked wheat. Dry-hopped with abandon at just over 5 lbs per barrel of an experimental hop NZH-107 and Strata. Expect juicy flavors and aromas of over ripe peach, passion fruit and a bit of heady dankess! No growlers and only limited cans (stay tuned for can release date)!Taster $3.5010 oz Snifter $6
Tart & Fruity
Perfect Strangers Berry Cobbler Sour
4.5% / 10 IBUs

Grandmama's berry cobbler……but in a glass! We took our standard kettle sour base recipe and added a mother-load of black currants, red currants and strawberries. A few dashes of traditional cobbler spices and graham cracker essence round out this delicious treat.Taster $2.5010 Oz Goblet $5
Mardis Gras Mambo Hurricane-Inspired Sour
4 Oz Taster4% / 10 IBUs

Laissez les bon temps rouler baby! Our new kettle sour was inspired by the Hurricane cocktail, a New Orleans classic. Passion fruit, tangerine, cherries, lime, vanilla and lactose. Tart and super fruity!Taster $2.5010 oz Goblet $5
To-Go Beer
Most of our house-brewed craft beer is available for to-go purchase.